Social Responsibility
Quality Assurance
Establishing quality policy,
quality target and motto.
Quality assurance activities
・Setting up of Quality Assurance Department
・Status of obtaining ISO9001 certification
・Execution of QC Patrol
・Organization structure of Quality Assurance Department and Quality Assurance Flow etc.
Environmental Conservation
Based on our concept "Contribution to actialization of environment-friendly, affluent society", we promote continuous improvement activity for environment management system. As for environmental conservation activity, considering ISO14001 as necessary, we have obtained certification in Okuma Plant which is our main production site in December 2002.
On top of keeping environmental laws and regulations, saving & reducing energy/resource/waste, providing trainings required for environmental conservation, we cooperate with customers' requests relating to Green Procurement.
Establishing environmental policy, management policy for chemical substances contained in products
Activities for safety and environment
・Status of obtaining ISO14001 certification
・Activities of Safety and Health Committee (safety patrol)
・Environmental organization chart etc.
Waste recycle
・100% recycle for wastes from production process.
(Material recycle, thermal recycle)
Communication with local society
・Cleaning activity, odour patrol, disaster prevention activity
(within Hasaki Industrial Park)
Green Procurement
Based on our concept "Contribution to actialization of environment-friendly, affluent society", we promote continuous improvement activity foe environment management system.
In addition to that, with some help provided from customers, in order to promote environmental conservation activities, "Green Procurement Standard" was set up in November 2007 to enable procurement of environment-friendly products.
Organization chart of Green Procurement
Occupational Safety and Health
Safety and Health Patrol (inspection of working environment)・Safety and Health Committee
Safety and Health Committee members are selected from each department to have safety patrol every month.
In case any risks and unhealthiness are found, they should be reported in Safety and Health Committee meeting to maintain the safety of working environment.
Health Control and Medical Check-ups
Other than annual medical check-up
Mental health check
Organic solvent poisoning check
Specified chemical substances check is implemented to ensure the health of our staff both mental and physical by taking advise from industrial physician.Risk Assessment of chemical substances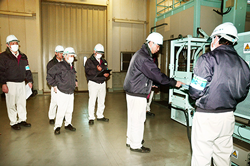 Security and Disaster Prevention
Disaster prevention training is implemented once a year.
Self-defensive organization for disaster prevention is organized within the company to improve our disaster prevention skills along with collaboration with fire fighters and local society.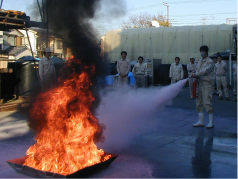 Safety of Logistics
Products in various transfer package forms are getting transported and delivered safely and securely with close communication with transport companies to satisfy customers' requests.
As a part of logistics safety support, we issue yellow cards and we have training sessions with transport companies to be ready for transport accidents and emergencies.
To enable a quick delivery to customers in overseas plants, some warehouses are located in Malaysia and China (Shanghai).
By having some stocks in sites and warehouses other than production plant sites, we enable delivering products in case of large-scale earthquakes (BCP Solution).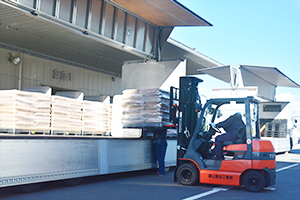 BCP
By experiencing a great damage to our company as operation suspension of core plant due to the Great East Japan Earthquake and the Fukushima No.1 nuclear power plant accident, we are now fully aware of the importance of continuous business operation.
[BCP policy]
We prepare for the safety of employees as a top priority, quickly grasp the damage of resources due to disasters, Create business continuity plans to fulfill the responsibility for supplying products to customers.
(1)Prioritize the life of employees and their families.
(2)We will strive to supply the products to customers as quickly as possible.
(3)We will strive for mutual support activities for suppliers and peer companies.
(4)We will keep compliance even in case of emergency.
(5)We will strive to contribute to local communities.
President
Hiromi Naito
Page Top